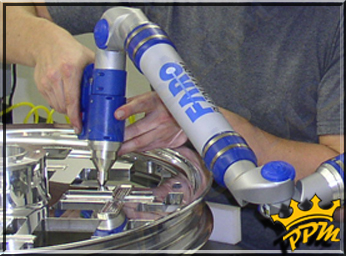 Lean Manufacturing is a way of life at Paulus Precision Machine, Inc.
Is your supply chain letting you down?
Let us save you time and money!
Here is how we can do that.
Through continuous improvement, value stream analysis, production cell development and one piece flow we will meet your production needs. We have made significant gains in production deliveries by practicing these techniques. Using these techniques save our customers money while keeping product quality to their highest standards. We have implemented the newest technologies to help improve manufacturing.
Let our lean experts make your life easy.
Would you like to see inside PPM?  Take a peek at our shop tour.
Faro Arm Platinum series 6'  7  – Axis
Tesa Hite 700
SPI 4" digital height Gage
12" height Gage
Micrometers 0-6"
Pin Gages .011 to .750 in .001 increments
Misc. bore Micrometers
Multiple Thread gages